True Beauty is Timeless
Established in 1934, Reliable Gold has a long tradition of offering exquisite and unique fine jewelry, both estate newly-designed, to a discerning clientele on the East Side of Providence and beyond. Customers appreciate our eclectic mix of classic, antique, vintage and contemporary jewelry as well as our knowledgeable service and a dedication to providing a personal touch. An independently owned, fourth generation family business, we've become a trusted jeweler for generations of families in the area.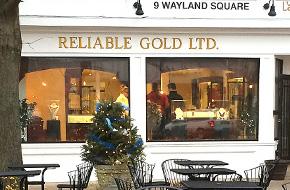 Hours of Operation
Special Holiday Hours (December until Christmas):
Monday-Friday 9:30-5:30
Saturday 9:30-5:00
Sunday 12:00-5:00
Regular Hours:
Tuesday 9:30 - 5:30
Wednesday 9:30 - 5:30
Thursday 9:30 - 5:30
Friday 9:30 - 5:30
Saturday 9:30 - 5:00
Closed Sundays & Mondays
Jewelry appraisals by appointment.